Terms and Conditions
Welcome to UK Carpet Tiles. By using this website, you agree to be bound by these Terms and Conditions. Please read them carefully before making any purchase.
1. Definitions
"The Company" refers to Carpet Tiles UK.
"You" or "Buyer" refers to the website visitor or customer.
2. Product Representation
Images of carpet tiles displayed on this website are for guidance purposes only and may not accurately reflect the true colours. For a precise colour match, samples are available upon request.
3. Order Processing
Goods are dispatched immediately after the cheque or funds have cleared.
Orders received after 14:00 hours will be processed on the next working day.
4. Notification of Claims
The Company must be notified within 48 hours of delivery of any claims by the buyer for shortages or damaged goods in transit.
5. Late or Incorrect Delivery
Under no circumstances can the Company entertain any financial demands from the customer for late or incorrect delivery.
6. VAT
Unless otherwise stated, Value Added Tax (VAT) is added at the checkout at the prevailing rate.
7. Stock Availability
Our website is regularly updated, and we take no responsibility for payments made for goods that are out of stock or sold out. In such cases, we will contact the customer and offer an alternative or a refund of the payment made. The Company shall have no liability to pay any compensation in such situations. This does not affect your statutory rights as a customer.
8. Order Cancellation
You may cancel your order by giving us notice of cancellation within 48 hours, as we dispatch orders immediately. If the goods have already been sent out, you will be responsible for the return of the goods at your own expense before a refund can be processed.
9. Fitting Recommendations
As a company, we recommend that you refrain from booking a fitter until the tiles have been delivered.
10. Contact Information
Providing a contact number or email address is recommended in case we need to contact you regarding your order. Rest assured, your information will not be shared with third parties.
11. Returned Goods
Returned goods may be subject to a restocking charge ranging from 0% to 25%.
12. Errors and Omissions
Errors and omissions excepted.
Thank you for choosing UK Carpet Tiles. If you have any questions or concerns, please feel free to contact us.
Easily work out how many tiles you need for your measurements, by using the table below.
This is based on tiles which our 50cm x 50cm. It is important to remember to add 5-10% for cuts.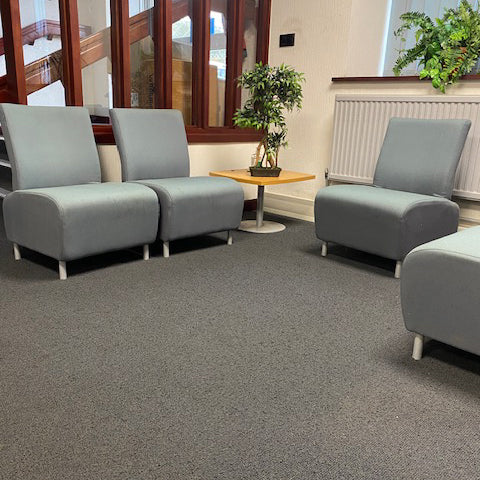 Need more information?
Our team is happy to help answer your questions no matter how big or small about the wide range of factory seconds carpet tiles that we stock.
Call our team on 01282 534102 or email sales@ukcarpettiles.co.uk