Seamless Installation, Easy as 1-2-3: Your Step-by-Step Guide to Carpet Tile Installation
Transforming your space with our factory second carpet tiles is easier than you think. Our Carpet Tile Installation Guide provides you with a simple, step-by-step roadmap to achieve professional-looking results. Say goodbye to complicated flooring projects and hello to a seamless, budget-friendly upgrade. Get started today and enjoy your new carpet tile flooring in no time.
Timing is Key: When to Install Your Carpet
Every task has its ideal time, and installing carpet is no different. Ensure that all building, renovation, or decorating work is finished before you proceed, and verify that the conditions are optimal.
Surface Preparation Guidelines
Ensure the surface is dry and meets specified moisture and humidity levels. Use primers and sealers if necessary, and consider a damp proof membrane for excessive moisture.
For dusty or porous surfaces, sealing is required.
Uneven or worn wooden floors may need floorboard replacement, patch leveling, and the addition of hardboard or plywood.
Laying carpet over wood blocks is risky; replacing or repairing the base is recommended.
Do not lay carpet over old floor coverings; remove them and follow the preparation steps mentioned.
Carpet Tile Preparations
Verify batch consistency; avoid mixing different batches. Please bear in mind we sell factory second only.
Condition tiles in the installation room for 48 hours.
Ensure appropriate adhesive for the specific area.
Turn off underfloor heating 48 hours before and after adhesive application.
Avoid installing over underfloor heating exceeding 27°C or on oil-treated concrete.
Tile Installation Tips
Plan carefully, drawing a central chalk line.
Mark the center point and create a perpendicular guideline.
Place a row of tiles along each leg or cross.
Adjust chalk lines for a half-tile border along walls.
Apply adhesive evenly with the right tool.
Allow adhesive to dry (typically 30 minutes).
Start laying tiles from the center outward, pressing them securely.
For edge tiles, cut to fit, overlapping where needed.
Avoid compressing tiles tightly against each other.
Adhesive Information:
It is important to take into consideration the intended use and life time of your project, when selecting an appropriate adhesive. Water-based products are best suited for short-term carpet tile applications, and solvent-based adhesives are typically chosen for longer-lasting installations.
Need more information?
Call our team on 01282 534102 or email sales@ukcarpettiles.co.uk
We would be happy to help.
Easily work out how many tiles you need for your measurements, by using the table below.
This is based on tiles which our 50cm x 50cm. It is important to remember to add 5-10% for cuts.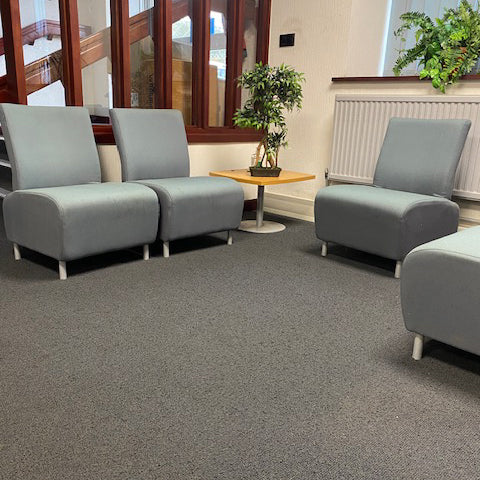 Need more information?
Our team is happy to help answer your questions no matter how big or small about the wide range of factory seconds carpet tiles that we stock.
Call our team on 01282 534102 or email sales@ukcarpettiles.co.uk